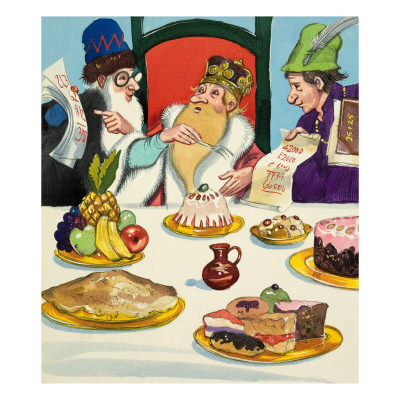 A Kingly Feast
SEPTEMBER 28, 2011 | PAULA WRAY
I saw my GI doc today, and got the green light to advance to the "Stage 2-B" diet. I now write to you as one satisfied woman following a feast fit for a King.
It's a long drive home from Danville in the rain when all you can think about is sinking your teeth into some semi-solid food. I had been on a liquid diet for 21 days, craving real food like mad, and hungry. I had only had a protein drink that morning. First Mom and I hit the Weis Market to stock up on my new rations. Then we stopped for a hoagie in McClure, which would not hold a candle to the feast I was about to prepare.
Finally home around 7:30 pm, I grabbed my bags and rushed in. The poor dog had been alone since early afternoon, and I grudgingly fed him first. Now finally I could begin.
I heated up a frying pan and opened the Egg Beaters. A quarter-cup ought to do it. I dared to salt and pepper my first course a wee bit, unsure if that's allowed. Flipping it over, I barely finished cooking it before dumping it on the plate. Next I really took a chance and added a little ketchup. What would happen when I had my first bite?
Heeding my training, I took small bites, chewing to the consistency of applesauce, which doesn't take long with scrambled eggs. It slid down smooth as silk.  No discomfort or eruptions down below. Pushing my luck, I decided to have something more.
A half-cup of low-fat cottage cheese and a tablespoon of no-sugar apple butter satisfied my sweet tooth. I was trying to recall how many ounces my stomach-pouch could hold and how fast it empties, but decided to go with my gut feeling.
Back to the kitchen again, I topped a quarter-cup ricotta cheese with a couple spoonfuls of spaghetti sauce, and heated it the microwave for 25 seconds. Closing my eyes, I imagined lasagna as I ate. Delicious!
Just one more thing. A dessert made with one-quarter cup Ricotta, lemon zest, artificial sweetener, and vanilla extract. Now I was finally satisfied, and very happy!  All this and I only consumed 542 calories today.
Tomorrow I'll have to pace myself. I'll also tell my employers that I am ready to get back to work!